Baby, it's cold outside! And that can only mean one thing…the holiday season is approaching!
Maybe you are an eager elf, and November 1st is the day you dust off all your holiday decor and deck the halls! But if you have yet to even think about how you want to spruce up your home for Christmas, here are some ideas that are trending for 2022.
Neutrals and Natural
According to home decor blogger Yvonne (stonegableblog.com) this year's biggest trends are inspired by Mother Nature herself. Think neutral and natural shades- cream, white, ivory, wood tones and forest greens. For more inspiration just take a walk through the trails in Canatara Park!
In fact, you can even save money by using items found in the woods rather than buying new decor this year! Pinecones, twigs, acorns, and foliage can all be used to add a beautiful nature inspired touch to your Christmas Decor. Hints of evergreen and cedar can add a subtle pop of colour to a neutral colour theme. Using birch branches to decorate indoors is another great way to bring a serene, woodsy ambience into your home. Fun fact – birch represents rebirth, new beginnings, and growth, which is perfect symbolism with the new year approaching!
Flocked trees also add a beautiful touch to create a nature inspired decor theme. Heads up- if you don't like mess you likely won't appreciate the flocking as it can fall off and make for extra cleanup. On that same note, while real trees are beautiful and give off a nice pine scent, they can also be high maintenance. Real trees lose their needles and they require daily watering. However, whether your preference is a real tree or a fake one, both options are sure to brighten up your living space for the Christmas season! 
Traditional Colour Palettes
 If you tend to veer away from following the trends, rest assured traditional Christmas colours are always timeless and popular. Pops of red and green, silver and gold, always create a cozy ambiance on those cold wintery nights. One fun way to tie tradition into your decor is to upcycle special Christmas items and craft new pieces from them. You could turn the fabric from old fleece Christmas pajamas into throw pillow covers. Christmas socks can become mini Christmas trees. You can spray paint an old picture frame red, remove the glass, and use ribbon to hang your ornaments that hold special meaning within the frame. Pinterest has an endless abundance of ideas for ways to turn old items into new pieces of decor.
Colour of the Year
 If your style is more eccentric and modern another way to decorate for the holidays is to incorporate the colour of the year. Each year, Pantone Color Institute picks a "Color of the year". 2022's colour of the year is "Very Peri", which is a shade of periwinkle. Paint companies Benjamin Moore, and Sherwin Williams also pick their own colour of the year each year. Benjamin Moore's 2022 colour is "October Mist", which is a light olive green hue, and Sherwin Williams chose "Evergreen Fog" which is described as a warm greyish green hue. These two colours fit hand and hand with the trend of neutral and natural so it's a win-win for those who like to follow both colour trends and style trends when decorating!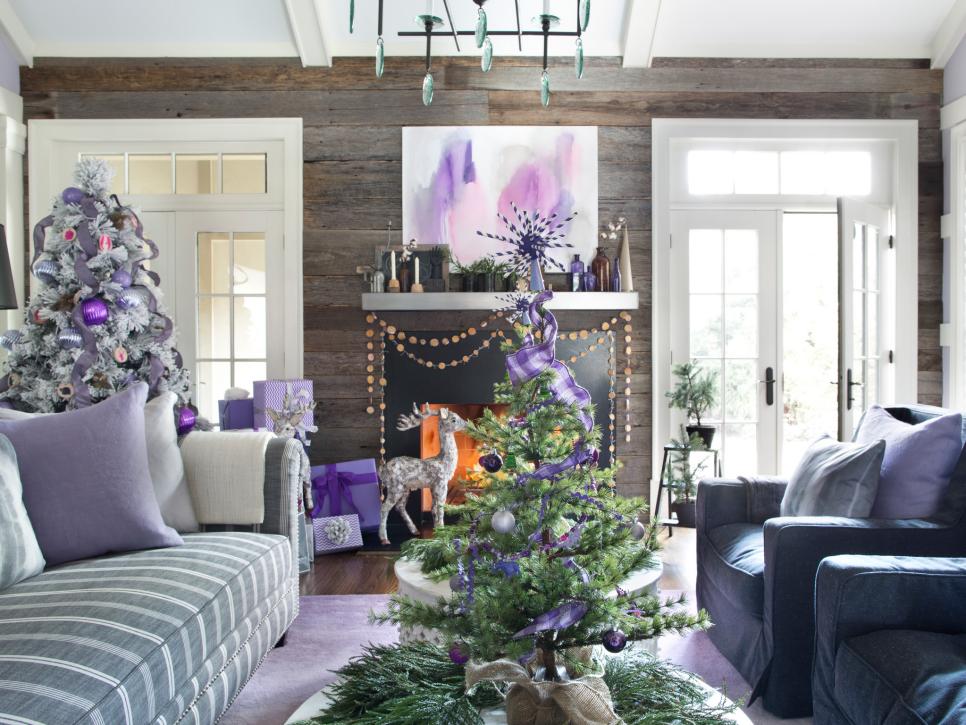 If you are looking to find a new place to call "home" for the holidays, we can help you! Let us give you the gift of a stress free home selling/buying experience!
Whatever holiday style surrounds your home this year, we at Coldwell Banker Southwest Realty hope you also find yourself surrounded with joy, laughter, and the people you love.